50th Anniversary Research Awards -- winners announced
20 August 2008
More than 140 guests, including dignitaries, Foundation professors and their families, and Monash University academics gathered for an awards night in the opulent State Drawing Room at Government House in Melbourne on Monday 18 August.
Fifteen Monash academics received 50th Anniversary Research Awards acknowledging the exceptional contribution they have made to their field of research and the community over the 50 years of Monash University's existence.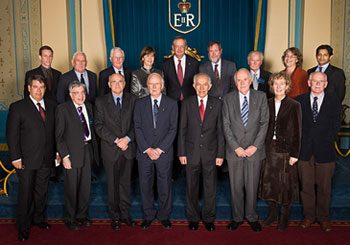 50th Anniversary Research Award winners.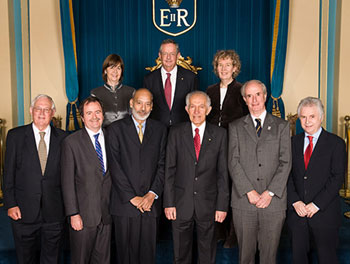 Our Sir John Monash Distinguished Professors.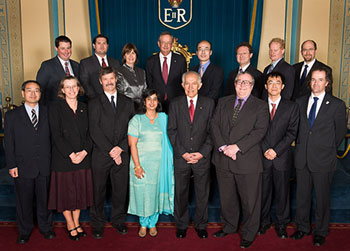 Recipients of the Vice-Chancellor's Awards for Excellence.
The recipients of the 50th Anniversary Research Awards were:
Emeritus Professor John Bradshaw for his outstanding contribution to the study of disorders of attention following stroke and disorders of movement in Parkinson's and Huntington's disease.
Emeritus Professor Ronald Brown AM for his highly innovative research in the areas of interstellar chemistry and spectroscopy and in positioning the Monash School of Chemistry as arguably the strongest in the country.
Emeritus Professor Michael Clyne AM for his outstanding achievements in the field of applied linguistics and sociolinguistics.
Emeritus Professor Peter Fensham AM for his significant impact on science education and related policy both in Australia and internationally.
Professor Christina Mitchell for her research into the ways in which specialist enzymes regulate signalling processes to prevent diseases such as cancer and diabetes and her leadership in biomedical research and research training at Monash.
Emeritus Professor Bruce Holloway AO for his discoveries in the genetics of bacteria which have contributed to the treatment of lung disease and been complemented by major contributions to biotechnology.
Emeritus Professor Ian Polmear AO for his pioneering work in light metal alloys that has led to commercial innovations, including the development of an ultrahigh strength aluminium alloy used in the space shuttle program in the US.
Professor Bill Kent for his contribution to the study of Renaissance Italy and his role in the establishment of the Monash Centre in Prato.
Emeritus Professor Owen Potter for his path-breaking work in fluidised reactors and drying which continues to make an impact on the development of technology to reduce emissions from brown coal.
Emeritus Professor Alan Powell AM for research that launched a set of economic models and modelling techniques that have been used to support policy-making in areas including trade, taxation, labour markets and the environment.
Professor David Smyth for the discovery of fundamental genes that regulate flower development, establishing Monash as a research hub for plant developmental genetics.
Emeritus Professor Joseph Powell for his passionate advocacy of historical geographic analyses that have profoundly influenced Anglo-American geography and shaped Australians' sense of identity and environment.
Emeritus Professor Alan Trounson for his pioneering contributions to in-vitro fertilisation technology and stem cell research.
Professor Peter Singer for his work in bioethics and applied philosophy, which has made significant contribution to public debate nationally and internationally.
Emeritus Professor Chris Weeramantry AM for his contributions to peace and intercultural education, human rights, environmental protection and sustainable development, international law and disarmament.
The evening also recognised and remembered the research achievements of four late Monash academics:
Emeritus Professor Douglas Lampard, the Foundation Professor of Electrical Engineering at Monash, who gained worldwide recognition early in his career for fundamental research in the field of electrical measurement. His later research in biomedical engineering led to significant developments in anaesthesia with widespread clinical and commercial application.
Emeritus Professor Harold Love who gained scholarly eminence in the international fields of English literature and print culture and wrote extensively in the field of Australian music culture. His achievements were recognised in his fellowship of the Australian Academy of Humanities and of the British Academy.
Professor Geoffrey Thorburn AO one of the world's foremost authorities on experimental fetal physiology and its clinical application. Head of one of Australia's leading departments of physiology at Monash between 1982 and 1995, he trained and influenced many fetal physiologists who are now world leaders in their respective fields of research.
Emeritus Professor Chris Wallace, was the Foundation Professor and Chair of Information Science at Monash at the age of 34. He also chaired the Monash Department of Computer Science until 1995. His work involved -- among other things -- building computers, writing software to make them work, enabling them to perform multiplication faster, making them better able to fit models to data and making them able to generate better random numbers faster. His (1964) fast multiplier has affected all computing, and his (1996) fast random number generators have even made their way into computer games.
The awards ceremony included the appointment of a new Sir John Monash Distinguished Professor, Professor Christina Mitchell who was recognised for the leading role she has played in the transformation of biomedical research at Monash.
Established in 1995, the Sir John Monash Distinguished Professorship is bestowed upon professors of exceptional distinction who have made an outstanding contribution to their discipline and to Monash University.
Past and present Sir John Monash Distinguished Professors Graeme Davison, David de Kretser AC, Peter Dixon, Roy Jackson, Max King, and Tam Sridhar were also honoured for their achievements and ongoing contribution to Monash.
The winners of Vice-Chancellor's awards were also named on the night.
The Vice-Chancellor's Award for Excellence in Research by Early Career Researchers was won by Dr Shonali Krishnaswamy from the Faculty of Information Technology. Completing her PhD in 2003 Dr Krishnaswamy has achieved much in her area of research focusing on distributed mobile data mining, web services, and service-oriented computing and intelligent mobile software agents.
The inaugural Vice-Chancellor's Award for Excellence in Innovation and Collaboration in Research with Industry recognises research excellence in three categories.
The Best Research and Development Collaboration award went to Greg Crew and his team members Graham Tew, Beng Oh, Darrien Welsby, and Dr Dingyang Zheng from the Faculty of Engineering. Building on a 36-year collaboration, the team has significantly enhanced the maintenance of haulage operations at BHP Billiton Iron Ore through the development and installation of three permanently instrumented ore cars.
The award for Best Collaboration Involving a Co-operative Research Centre went to Associate Professor Chris Davies, Dr Trevor Abbott, Dr Colleen Bettles, Dr Mark Easton, Dr Su-Ming Zhu and Dr Jian-Feng Nie from the Faculty of Engineering. Over the past eight years this team has played a critical role in the development of four high-performance lightweight magnesium alloys, two of which have been patent-protected.
The Best International Collaboration went to Professor Milton Hearn from the Faculty of Science. Professor Hearn and his team's discovery of a new way to purify recombinant proteins in collaboration with Novo Nordisk A/S will have a significant impact on the pharmaceutical industry and the general research community.
The Vice-Chancellor's Award for Postgraduate Supervision was awarded to Professor Rob Hyndman from the Faculty of Business and Economics. Professor Hyndman is highly-regarded by his students, undertaking an innovative, problem-solving approach to supervision. He has developed many new online resources for his students, employed a copy editor to assist students with their theses and helped new students to get settled. Special commendations went to Associate Professor Flavia Cicuttini from the Faculty of Medicine, Nursing and Health Sciences, Professor Xiao-Ling Zhao from the Faculty of Engineering and Professor Kerry Hourigan from the Faculty of Engineering.